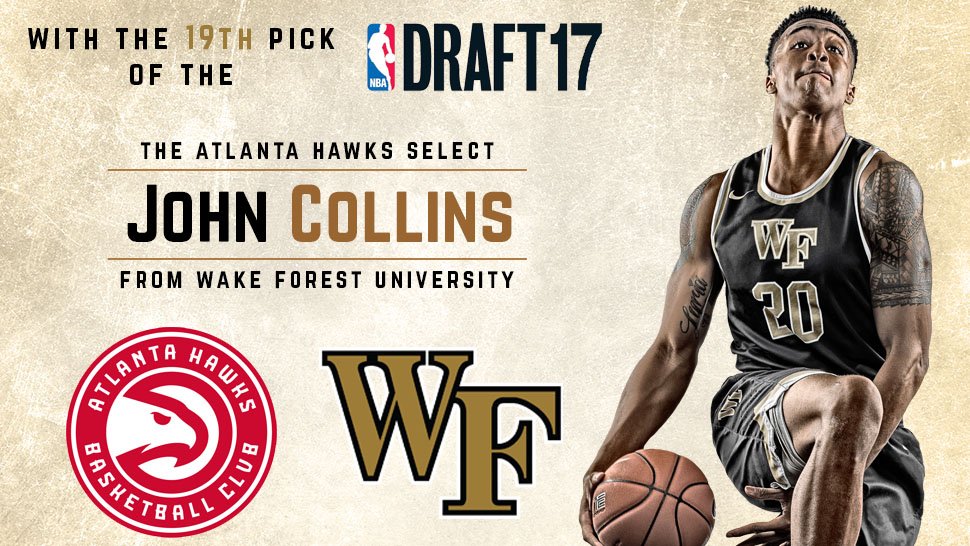 The Atlanta Hawks selected Wake Forest Power Forward, John Collins with the 19
th 
pick in the 2017 NBA Draft.
Collins has shown the ability to score inside and step out and shoot which fits the mold of what the Hawks covet at the power forward slot and with Paul Millsap's exit brewing as we're a week away from Free Agency,  it was expected for the Hawks to add a replacement in one of their three selections in Thursday's NBA Draft.
Collins can attack the paint with his above average athleticism giving him the opportunity to excel in the Pick & Roll plays in Mike Budenholzer's offense. 
The Hawks missed an opportunity to take Harry Giles and took a gamble 
 to add a prospect that may never contribute in a Hawks uniform more than a Role Player.
Collins is a classic Hawks' draft pick that has put them in the position with few household names and zero players with 'box office' potential. 
Trying to keep in mind that the pick was in the middle of the first round, but there were better potential players available at the slot.
My grade for Atlanta's selection of John Collins is a "C".