Falcons Interview a Guard After Day 1
*This tweet came out after I posted yesterday's recap so this is going into this recap*
Yesterday, after Senior Bowl practice, an Atlanta Falcons scout was interviewing/talking with Appalachian State Guard Colby Gossett. While this might all be speculation it is a possibility the Falcons draft him, it is worth noting that we are focused on the offensive line, specifically guards.
Gossett is a 6'6", 311 pound 4-year starter from Appalachian State Who is expected to go on day 2 or day 3 of the draft. He fits the Falcons scheme as well and is also an all around blocker that is good in the run game and in pass protection. He also has experience starting which might explain why the Falcons are interested.
Falcons Meet With DT
*Also happened yesterday*
It was reported this morning by Vaughn Mclure of ESPN.com that the Falcons met DT B.J. Hill from NC State. Yesterday, Mike Mayock called Hill his "Player of the Day" on day 1 but also compared him to Vikings DT Linval Joseph. Hill is 6'3" and 321 pounds and has started 44 games in his college career. In his Senior year, Hill had 55 tackles, 3.5 TFL, 2 sacks, 3 pass deflections, and 1 forced fumble. I'm his college career, he had 183 tackles, 23.5 TFL, 8 sacks, 9 pass deflections, and 2 forced fumbles. He is a great run defender who can close gaps well but I think he won't go until at least day 2. The Falcons talking to him doesn't mean we are going to draft him but it could tell you that they don't expect to re-sign Poe.
1st Day of Pro Bowl Practice
Alex Mack, Julio Jones, Deion Jones, and Keanu Neal were selected to the Pro Bowl this year for the Falcons. Alex Mack and Julio were starters but declined to participate so Deion Jones and Keanu Neal will be the only ones to participate. NFC practice starts today and then the skills challenge on Thursday and actual Pro Bowl on Sunday.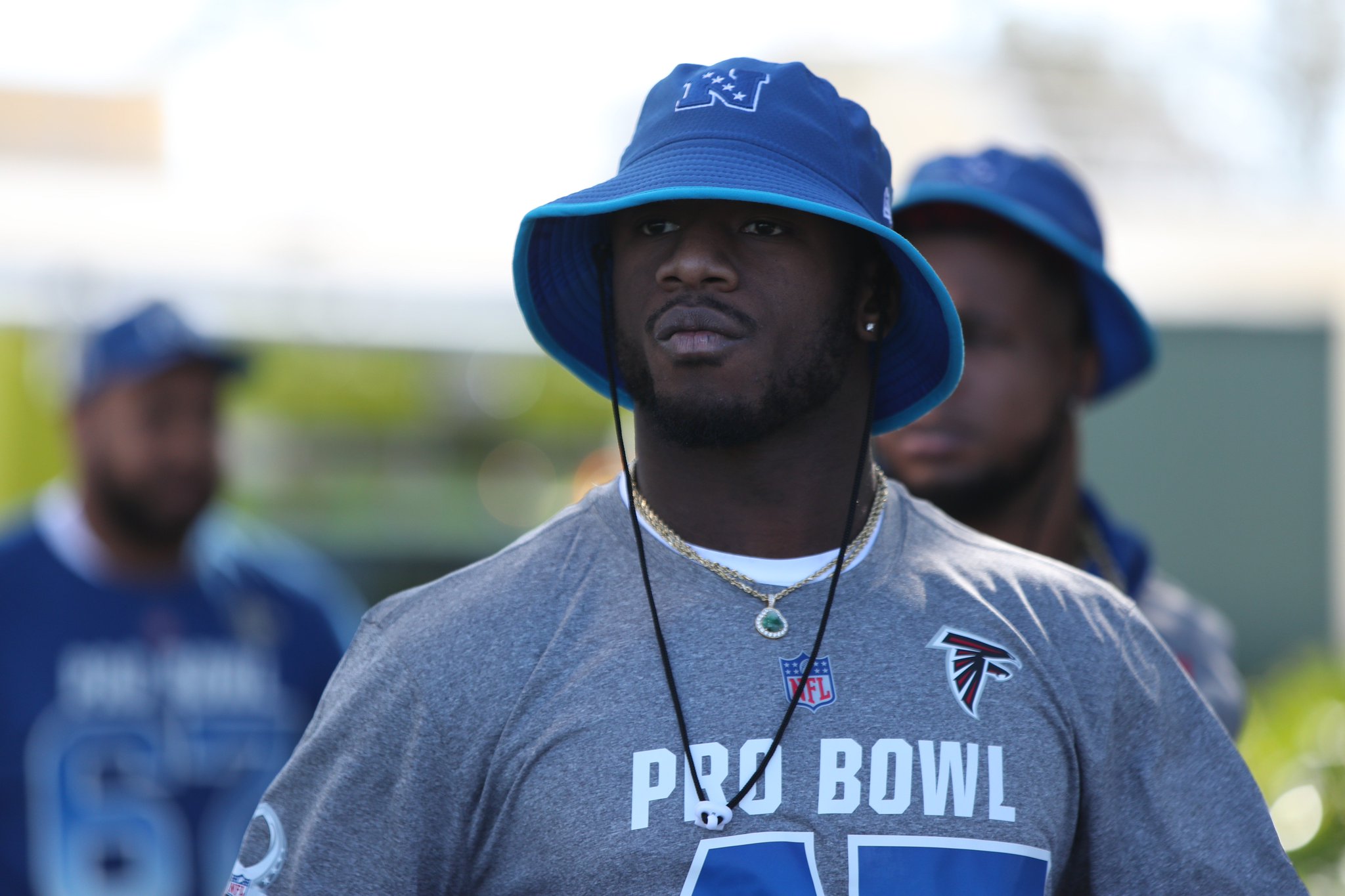 Senior Bowl Day 2 Meetings
Today, after the conclusion of the second Senior Bowl practice, Thomas Dimitroff and Dan Quinn met with 6'8″ 310 North Carolina A&T left tackle Brandon Parker. Parker was the MEAC Offensive Lineman in his junior and senior year and a MEAC all-conference first team twice. He has good size and length to protect the edge well as a pass blocker. He is projected to go in the 3rd to 4th rounds.
The Falcons also met with Army OT Brett Toth after practice. Toth is a 6'6″ 305 option tackle. He isn't a small tackle like most option tackles are though so he will be able to adapt to the NFL and a more pass-heavy attack. He did go to West Point and so will do 2 years of military service before he can play in the NFL. He is a great player but I don't see him coming to Atlanta unless the Falcons are looking to replace Jake Matthews after he finishes his contract.
Best of Mic'd Up Part 2